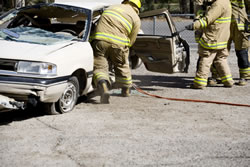 At Cordima Chiropractic Center in Somerville, we've helped hundreds of patients recover from auto injuries and help prevent chronic pain.
In a car accident, it's common to suffer from a mild traumatic brain injury. This often occurs as a result of whiplash, where the neck is 'whipped' backwards and forwards with the sudden cessation of movement. Symptoms of whiplash may include numerous different problems from mood swings to physical pain in the neck to cognitive dysfunctions such as forgetfulness and indecisiveness.
In a recent study, researchers were looking for problems that resulted from a car accident such as headache, hearing problems, sleep disturbances, forgetfulness, tiredness, dizziness, low back pain, neck pain, mid-back pain, and vision problems. The questions they were asking were which of these symptoms after the car accident persisted at time frames of 6 weeks, 3 months, 6 months 9 months, and 12 months. They also wanted to know what type of health professionals those who were in a car accident were seeing.
During that two year time period, the researchers found 1716 cases of adults who had suffered a mild traumatic brain injury from a car accident. At the time period of 6 weeks after the car accident, 75% of the cases (1287 people) had more than three of those symptoms listed. Thirty percent of them (515 people) had clinically significant pain in more than 3 body sites.
Even at the one year mark, patients were reporting chronic pain from their injuries.
Auto injuries can be a very serious matter. It's important to get early chiropractic care to prevent the development of scar tissue and chronic pain.
If you're in Somerville and you've been injured, you don't need to suffer. Give our office a call today at (617) 629-2600 for an appointment.
Hartvigsen J, Boyle E, Cassidy JD, and Carroll LJ. Mild traumatic brain injury after motor vehicle collisions: what are the symptoms and who treats them? A population-based 1-year cohort study. Archives of Physical Medicine & Rehabilitation 2014;5(3 Suppl):S286-96-94.