These finding are very subtle, which is why they are so often missed! Make no mistake though as these findings can be incredibly significant, so significant that the American Medical Association set up a criteria to measure them and interpret the results, through their Guides to the Evaluation of Permanent Impairment. Here are some specific quotes on what they say regarding these findings, and by the way when a measured pattern here crosses over into a ratable level, these AMA Guidelines call it "alteration of motion segment integrity" which makes sense. The ligament damage has now permanently "altered the motion segment (two vertebras form a motion unit).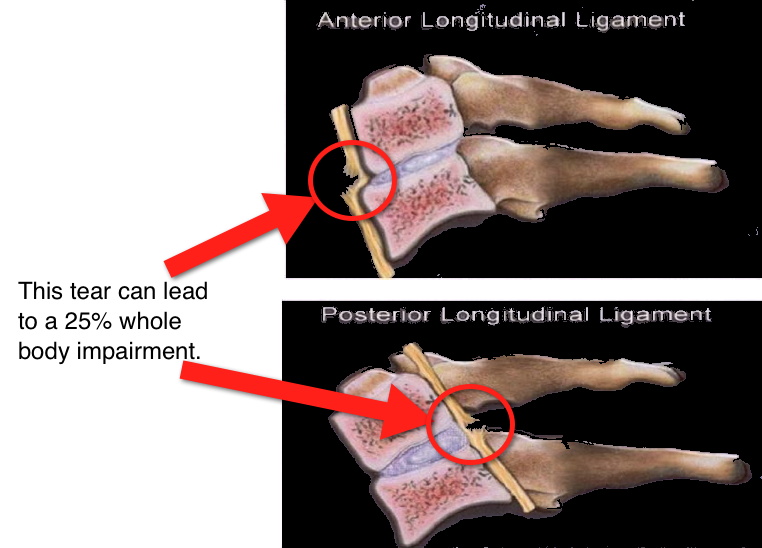 This is what the AMA says:
"Motion of individual spine segments cannot be determined by physical examination but is evaluated with flexion extension roentgenograms" pg. 379 AMA Guides
This of course means that according to authority ,the AMA, intersegmental motion cannot be accurately determined any other way than by x-ray examination.
"When routine x-rays are normal and severe trauma is absent, motion segment alteration is rare; thus, flexion and extension x-rays are indicated only when the physician suspects motion segment alteration from history or findings on routine x-rays." pg. 379 AMA Guides
This of course means that when the AMA ratable level of ligament damage is found, it is rare in the absence severe trauma. This means that even if your care was not severely damaged, if YOU have this finding, you suffered severe trauma.
"The primary purpose of the Guides is to rate impairment to assist adjudicators and others in determining the financial compensation to be awarded to individuals who, as a result of injury or illness, have suffered measurable physical and/or psychological loss." Pg 20 6th Editions
This means that testing for things such as spinal ligament damage found in these books, helps everyone to solve the medical legal situation which is often related to accidental injury, and compensation.
If your doctor doesn't know how to test for this call Dr. Cordima today for an appointment and if there's ligament damage he'll find it.
---

Dr. Cordima has extensive training in the treatment and documentation of motor vehicle accident injuries. His primary focus is on creating an accurate diagnosis, prognosis and treatment plan, while clinically correlating causality, bodily injury and persistent functional loss when present. Dr. Cordima understands the intricacies of the medical-legal arena and knows what needs to be documented in order to support the facts surrounding the injuries, disability, impairment and functional loss.