If you have never been to a chiropractor before, it's good to know what your first visit typically entails. This includes:
A history of what happened to you, when, where, and how
Your personal medical history
Orthopedic tests to see what could be wrong
Postural analysis
Imaging studies such as x-rays as necessary, or examination of previously taken imaging tests a diagnosis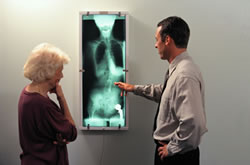 The first chiropractic visit is usually longer because of this thorough intake. However, following all these steps to the letter is important because your chiropractor is interested in understanding the full nature of your injury and get a better grasp of your overall health. A complete intake is especially important if you have an auto or workplace injury requiring documentation. For you to receive reimbursement for any type of auto injury or work injury, the insurance companies need evidence that you were indeed injured. Otherwise, it would be too easy for anyone to claim they had injuries when they really didn't.
A chiropractor often sees injuries sustained to the soft tissues of the body – the muscles, tendons, ligaments, and connective tissue that holds the body together. Since soft-tissue injuries cause subjective pain, this is where the imaging studies help. Imaging studies will enable your chiropractor to see things like a flattening of the cervical spine curvature. A CT scan may show a vertebral fracture. An MRI can illustrate a bulging disc. In this case, your chiropractor will alter his regular treatment plan protocol. It's important for you to get copies of these imaging studies from the hospital for your chiropractor.
Chiropractic Care in Somerville, MA
Somerville chiropractor Dr. Cordima will use careful diagnosis and treatment to decrease inflammation and stimulate the body's healing processes. If you're suffering from back pain, neck pain, sciatica headache, or any other neuro-musculoskeletal condition, contact Dr. Cordima. He'll get you back to leading a pain-free life!