What is spinal decompression therapy?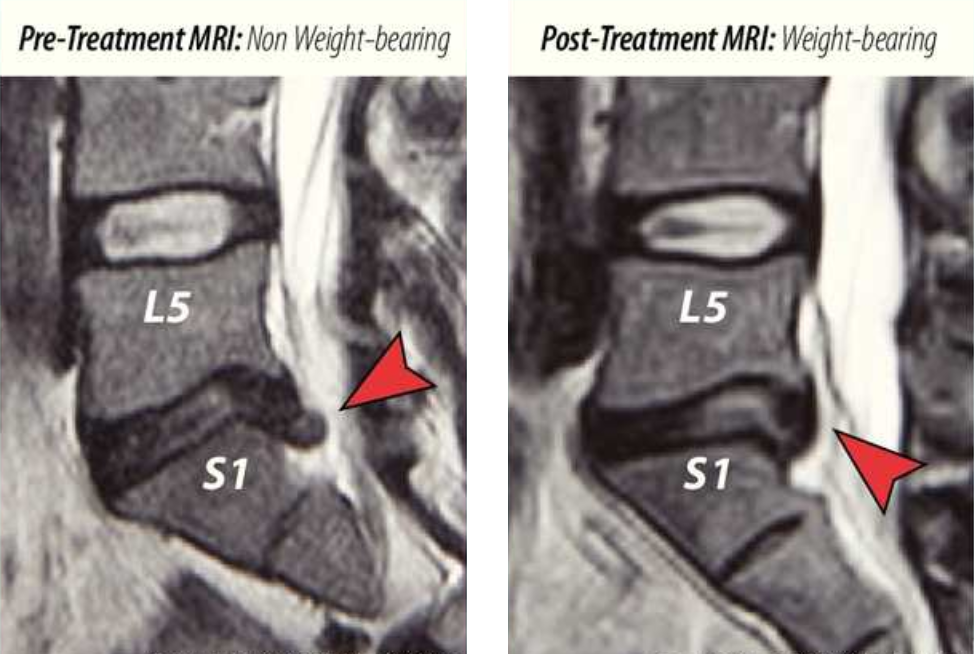 ​Spinal Decompression Therapy, approved by the FDA in 2001 for disc injuries, is not only the least invasive form of treatment for disc pain but it is the most cost-effective treatment for herniated and degenerative spinal discs, and spinal stenosis; one of the major causes of back and neck pain.
Spinal decompression therapy is a proven non-surgical treatment for chronic neck pain and low chronic back pain caused by:
Degenerative Disc Disease
Facet syndrome
Bulging/Herniated Discs
Failed Back Syndrome
Sciatica
Spinal Stenosis
How Spinal Decompression Works
Spinal decompression gently lengthens and decompresses the spine, creating negative pressure within your discs which significantly reduces intradiscal pressure and creates a vacuum affect on the herniated tissue. This natural vacuum helps to reposition bulging discs and retract the extruded disc material which therefore takes the pressure off of pinched nerves. This therapy may additionally increase the spacing between the vertebra as the involved discs are rehydrated, allowing even more room for the nerve. Then as the disc rehydrates, its shock absorbing capabilities are restored reducing mechanical stress on the related structures (facet joints and supporting ligamentous tissues) slowing or halting the osteoarthritic damage.
The combination of Spinal Decompression Therapy with Laser Therapy helps to give you that "one-two" punch to knock out your pain fast.
How Laser Therapy Works
Laser therapy aims to photo-biostimulate chemically damaged cells via specific wavelengths of light. When cells are chemically damaged they stimulate the pain cycle. Laser excites the kinetic energy within cells by transmitting healing stimuli known as photons.
The skin absorbs these photons via a photo-chemical effect. Once photons reach the cells of the body, they promote a cascade of cellular activities. Laser therapy light can ignite the production of enzymes, stimulate mitochondria, increase vasodilation and lymphatic drainage, ATP synthesis, and elevate collagen formation substances to prevent the formation of scar tissues. This is a critical step in reducing long term disabling chronic myofascial pain syndromes. Other formative cells are also positively influenced and immune enhancing effects are increased in the number of macrophages. Simply stated, laser enables patients to get out of pain faster and heal at the same time.