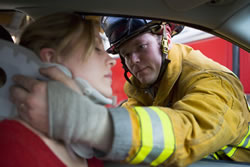 Your whole life changes after you experience an auto injury, especially if you are suffering from whiplash, herniated disks, bruises, broken bones and traumatic open wounds.
You have pain and suffering. It's impossible to go to work and your daily schedule involves going from one doctor to the next. You may be taking sick time for the first few weeks but after your sick time runs out, you may be on your own financially. It could take months or years to collect any funds from insurance companies.
The worst part about being involved in an auto injury is the whole set of worries and new concerns you will have running through your head. You may fear that your pain from the auto injury won't go away. You may be afraid that your marriage will fall apart, that your employer will have to fire you so he can hire someone else who can do the job, or that your relationship with your family will be forever ruined.
All these are fears that are dependent on getting you out of pain and getting you functioning back to normal or close to it so you can go back to work.
Talk to your Somerville chiropractor, Dr. Cordima, about all the methods of pain relief he uses to allay this fear. He has seen many patients that have had an auto injury similar to yours – and in some cases an auto injury that was worse. He can tell you about how the pain-relieving modalities he uses to alleviate pain.
After a car accident, chiropractic treatment is the only type of complete healing system that addresses the injury, the connection between your nervous system and healing, all while boosting your immune system. With all this set straight, you are on track to receive your healing from the auto injury.
There's no point of spending sleepless nights worrying about all this. Set up an appointment in our Somerville office today and find out what Dr. Cordima can do for you and your auto injury.